Mix all ingredients, except oil, in a bowl, using your hands.
In large skillet, heat coconut oil over medium to med-hi heat. Make sure it is nice and hot!
Form tuna into 11-12 small, slightly flattened patties and cook in hot oil 2-3 minutes per side. You will most likely have to do this in batches, so add more oil to the pan as necessary.
It is important to make sure your patties are browned on the one side before attempting to flip them, this helps them hold together!
Top with the garlicky aioli and serve warm!
Aioli
Ingredients:
1/2 C. Paleo mayo
Juice from 1/2 a lemon
1 clove garlic, minced (or pushed through a garlic press, which is by far my favorite kitchen tool)
1/4 tsp. black pepper
Directions:
Mix all ingredients thoroughly in a small bowl.
You could spice up the aioli if you cared to by adding a squirt of Sriracha hot sauce, or a pinch of ground cayenne pepper.
[ingredients]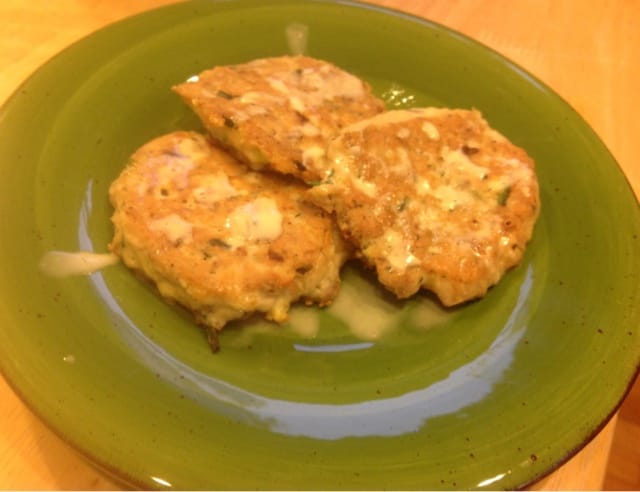 Ingredients
3 5oz. cans tuna, in water, drained
2 eggs
1/2 Tbsp. dried dill
1/2 tsp. salt
1/4 tsp. fresh ground black pepper
1/4 tsp. ground cayenne pepper
1 Tbsp. scallions, finely chopped
1 Tbsp. fresh chives, finely chopped
2 Tbsp. coconut oil