Turkey Meatballs Braised in Tomato Sauce
Flavorful Italian-style meatballs that are not at all dry due to the cooking method of braising. See the original recipe and short, no-speaking video tutorial at http://thrivingonpaleo.com/2015/01/turkey-meatballs-braised-in-tomato-sauce/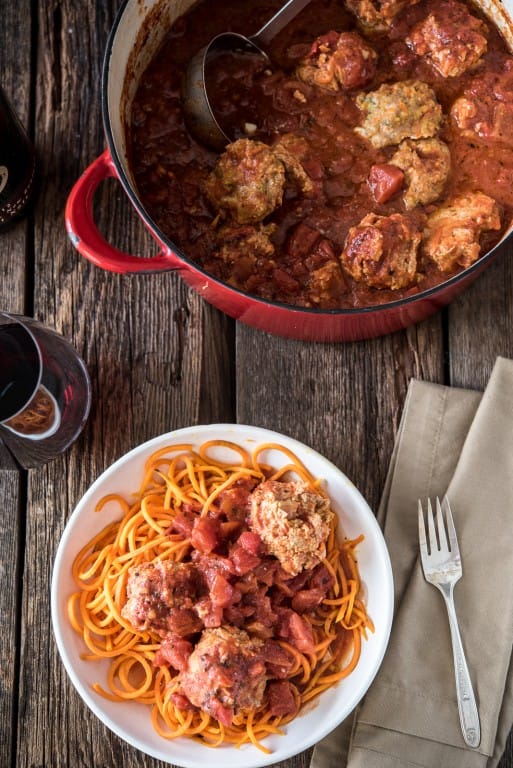 Ingredients
2 tbs Lard or other cooking fat
1 small yellow Onion, grated
2 large Carrots, peeled and grated
4 cloves Garlic, minced
1 tsp Dried Oregano
2 tsp Sea Salt
2 lb Ground Turkey Thighs
2 Eggs (or 1/2 cup Unsweetened Apple Sauce)
2 tsp Fresh Sage, chopped
1/2 tsp Freshly Ground Pepper
56 oz Diced Tomatoes, with their juices
1 tsp Dried Basil
1/2 cup Olive Oil
Salt and Pepper to taste
Directions
In a large pot over medium-high heat, melt the lard. Add the onion, carrots, 2 cloves minced garlic, dried oregano, 1 tsp salt, and freshly ground pepper to taste. Cook, stirring, until soft, about 5 minutes. Remove from pot and put into a large bowl.
Add the ground turkey thighs, almond flour, eggs, sage, the remaining salt and approx 1/2 tsp freshly ground black pepper to the bowl and mix with your hands. Form the mixture into meatballs, about the size of golf balls.
In the same pot you cooked the onion/carrot mixture in, add the tomatoes, remaining garlic, dried basil, olive oil, and salt and pepper to taste. Mix and cook over medium-high heat until boiling.
Add the meatballs to the sauce and turn the heat down to a simmer. Simmer for 30 minutes.
Serve over sweet potato noodles, spaghetti squash, or mashed cauliflower.