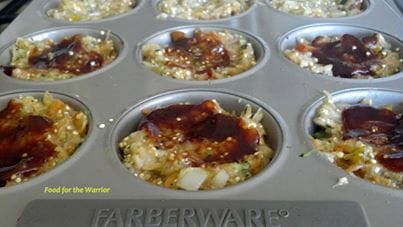 Ingredients
1.5 lbs of 93% Lean Ground Turkey
1 cup of Onion, diced
2 cups of Zucchini, grated
1 cup of Carrots, shredded
3/4 cup of Couscous, uncooked
1 Egg
1 tsp of Coconut Aminos
1 Tbsp of Spicy Mustard
1 cup of Barbeque Sauce, homemade or store bought
Directions
Pre~heat oven to 400* Spray your muffin tins with cooking spray.
Grate the zucchini (either with a box grater or food processor). Let the zucchini drain on a piece of cheese cloth over a bowl. This will allow the excess water to drain.
In a big bowl combined the turkey, couscous, carrots, zucchini, & onions mix well. In a separate small dish mixture together the coconut aminos, egg, & spicy mustard. Combined this mixture with the turkey mixture. Fill each prepared muffin tin about 3/4 full. Top each cup with about 1 tsp of barbecue sauce.
Bake in a 400* oven until juices run clear, about 25 minutes. Enjoy!!