Vanilla Bean Coconut Ice Pops
1. Pour the coconut milk into a mixing bowl (preferably one with an easy-pour spout) or into your blender.
2. To calculate how much water you'll need to add: Test how much liquid your ice pop molds will hold by filling one to capacity, then measuring the liquid in a measuring cup. Multiply that amount by the number of pops you have, then add water to your coconut milk to add up to the total number of ounces you'll need to make your pops. For example, if you have 6 pop holders and each one hold 3oz of liquid, you will need to have 18 total ounces of liquid. In this case, you will want to add 3oz of water to the 15oz of coconut milk you have to add up to the total of 18oz.
3. Slice the vanilla bean pod in half lengthwise, then scrape the back of your knife down the inside of the pod to remove the seeds.
4. Place the vanilla bean seeds into the coconut milk, then add the vanilla extract and either whisk together or blend.
5. Pour evenly into your molds and freeze overnight. To remove the pops, run the containers under warm water until the sides release.
Change It Up:
If you are not on The 21-Day Sugar Detox, add 2 tablespoons of maple syrup to the mixture to sweeten it just a touch – or add 1/4 cup of your favorite fruit to the blender – try pineapple, cherries, peaches, mango, strawberries, or blueberries.
[ingredients]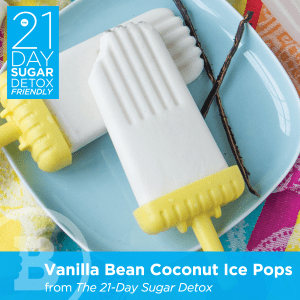 Ingredients
1 15 oz. can of full fat coconut milk + water to fill pop molds
1 vanilla bean pod
1 tsp. pure vanilla extract