Vanilla French Toast Rounds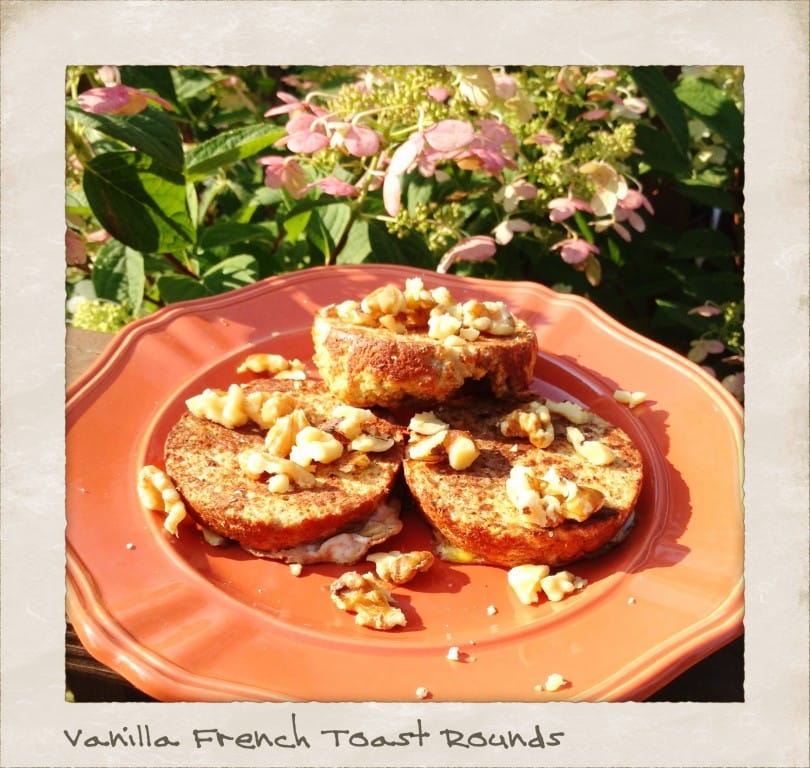 Ingredients
1/2 cup coconut flour
1 Tbs baking powder
1/8 tsp salt
2 ripe bananas
2 Tbs coconut oil
1/2 Tbs raw honey
1 Tbs vanilla extract
4 eggs
French toast: 1 egg, 2 Tbs coconut or almond milk, 1 tsp vanilla extract, 1/4 tsp cinnamon
Directions
Preheat oven to 350.
Then grease 6 muffins in a jumbo muffin pan OR 6 ramekins with coconut oil.
Next, melt the bananas in a microwave safe dish for 2 minutes.
They will be soft and mushy.
Add the honey and coconut oil to the bananas and mix until they are melted in the bananas.
Now add 4 eggs and 1 Tbs vanilla extract and mix well.
Next, add the coconut flour, baking powder, and salt to the banana mixture and mix well.
Scoop the mixture into the 6 jumbo muffins OR 6 ramekins and bake for 20 minutes, when the center is set.
To make the French toast heat a nonstick skillet and spray lightly with oil or use coconut oil.
Mix the French toast ingredients (1 egg, 2 Tbs almond or coconut milk, 1 tsp vanilla, 1/4 tsp cinnamon) in a bowl.
Dip your bread rounds in the egg mixture and place on the skillet.
Cook 2-3 minutes on each side, until it's browned.
Top with pure maple syrup, walnuts, and/or fruit if desired and enjoy!