Veal Medallions in Lemon Butter
1) Trim veal. Using meat mallet, pound to flatten the veal scallops.
2) Mix flour, salt and pepper. Dredge the veal in flour.
3) Beat and mix eggs and water. Dredge floured veal in egg mixture.
4) Heat oil in a large skillet, use more oil if needed. Heat until the oil sizzles.
5) Saute veal on both sides until golden brown, quickly. Remove veal from skillet and place on hot plate. Discard oil.
6) Heat butter and lemon juice in skillet and coat both sides of veal pieces with \'sauce\'.
7) Place veal on a hot plate and garnish with parsely.
8) You can make extra sauce and drizzle over the veal.
[ingredients]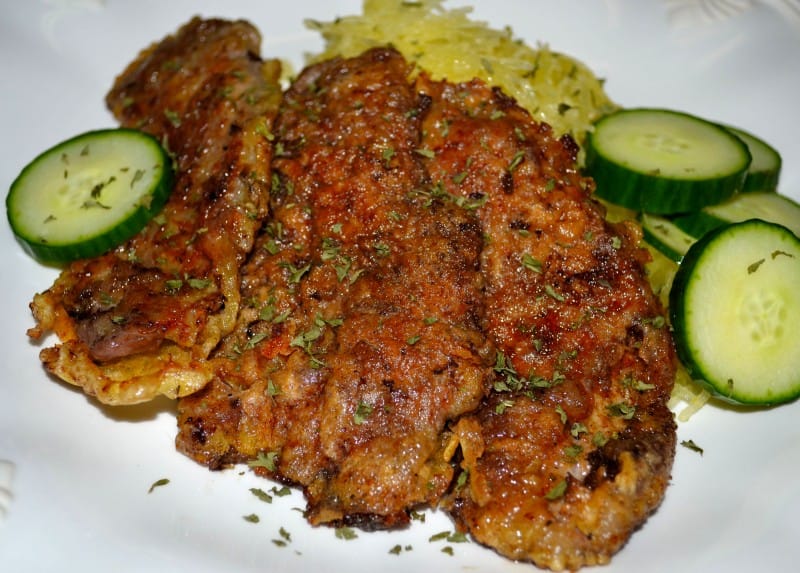 Ingredients
1 1/2 lb. Veal scallops (scallopini cuts)
1 c Tapioca flour, or paleo flour of choice such as almond flour
Salt, to taste (for flour seasoning)
Pepper, to taste (for seasoning)
4 eggs, beaten
1/4 c Water
1/4 Olive oil, or oil of choice
1/4 c Butter
1/4 c Fresh Lemon juice
Fresh parsely, chopped