Vegetable Cauliflower Rice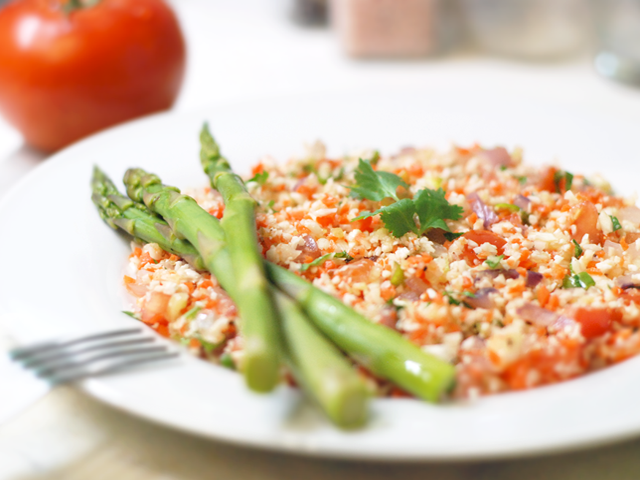 Ingredients
1/2 of a small organic red onion
2 organic garlic cloves
1/2 of an organic white cauliflower
6-12 organic asparagus shoots
1-2 large organic carrot(s)
1-2 organic celery stalk(s)
a bunch of organic Italian parsley, a bunch of organic cilantro
1 large organic tomato
1-2 tbsp organic virgin coconut oil (for frying)
sea salt, organic black peppercorn
Directions
Chop onions and garlic and let sit for 10 minutes.
Chop (pulse) cauliflower in a food processor, until they are the size of short rice grains.
Add cauliflower rice to a large mixing bowl and set aside.
Add salt to asparagus and steam until tender. Set aside.
Chop carrots and celery in chunks, then chop (pulse) carrots, celery and herbs in a food processor. Add to mixing bowl. Set aside.
Dice tomato and then add to mixing bowl.
In a small frying pan, at medium-low heat, lightly fry onions and garlic for about 3-5 minutes. (If you can tolerate the strength of raw onion and garlic, you can skip this step and add them to the mixing bowl.)
Once onions are softened, remove from heat. Set aside and allow to cool.
Mix all ingredients in large mixing bowl.
Then add onions and garlic once cooled. Mix well.
Add salt and pepper. Check for flavor and make necessary adjustments.
Once ready, distribute \'rice\' mix onto 2 plates and then top off with steamed asparagus.
Serve and enjoy!