Venison or Beef Bourguignon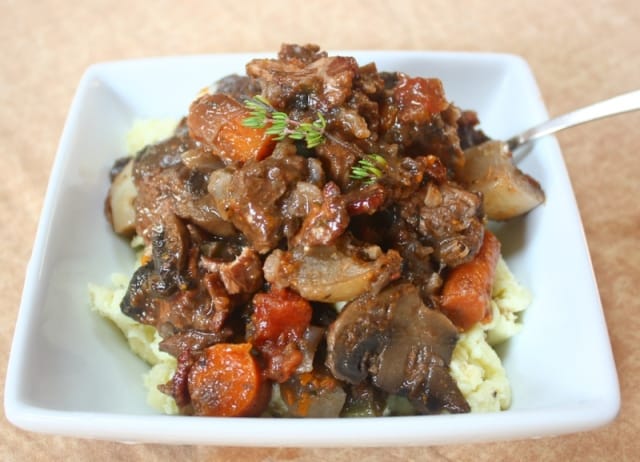 Ingredients
1 tablespoon of good olive oil
8 oz of a good center cut bacon, cut into small pieces
2.5 pounds of venison or beef stew meat
1 pound each of carrots and parsnips sliced into 1 inch chunks
2 fat yellow onions cut into chunks and 2-6 garlic cloves, minced
1 pound of mushrooms sliced
1 750 ml bottle of a good dry red wine
1 tablespoon of tomato paste
1 28 ounce of canned crushed organic tomatoes
1 teaspoon each of dreid thyme, rosemary and parsely, salt and pepper
Directions
Preheat the campfire(oven) to 350 degrees. Heat up your olive oil in a heavy dutch oven you could knock a bear out with and cook the bacon chunks over medium heat for 10 minutes, stirring occasionally until the bacon is fragrant and lightly browned. Remove the bacon with a slotted spoon to a plate with a paper towel on it.
While the bacon is cooking, lay your venison cubes out on a cutting board and dry them with a paper towel, (no I'm not crazy, this makes the meat brown better) then sprinkle them with salt and pepper. When the bacon is done, sear the cubes in the bacon fat in small batches of a single layer of meat for 3-5 minutes, turning to brown on all sides. Remove the meat with your slotted spoon when browned to a bowl and finish searing the rest.
After the meat is done, toss in the carrots, parsnips, garlic and onions and cook for 10 minutes or so stirring occasionally until the onions are lightly browned. Add the meat and bacon back to the stew pot and add the rest of the ingredients. Turn off the burner and stir the pot till everything gets to know each other. (This step can be done the night before and stored in the fridge till you are ready to cook it)
Place the pot into the middle of the oven and stand back and let magic happen. Cook for two hours while the house filled with the most amazing scent that will bring people off the streets. Carefully take out of the oven after two hours, taste and adjust the seasonings, then serve on garlic mashed cauliflower for the best comfort food ever. Enjoy!