These were inspired by a recipe I used for our very first Creepy Halloween Feast (non-paleo). It was a bagel dough formed into fingers and toes with peanuts and almonds as the rotten nails that were painted with green food coloring. I decided to make these a little more fun by turning the dough green and putting a fun (though subtle) pop of red/purple on the nails, and I thought they might look as if they came from wicked witches!
Since I have yet to find a great paleo bread recipe suitable for bread sticks, I developed this recipe by simply looking at the back of a box of Chebe® gluten free pizza crust mix to see what's in it and what the required additions are, and then I found out how much mix is in one box. I had to use coconut flour in place of some of the tapioca flour to help everything come together, which then required a bit more liquid. Yes, it's a lot of starch, but it's a rare treat. Besides, the kids will need some extra carbs for the night's festivities, and I just might too!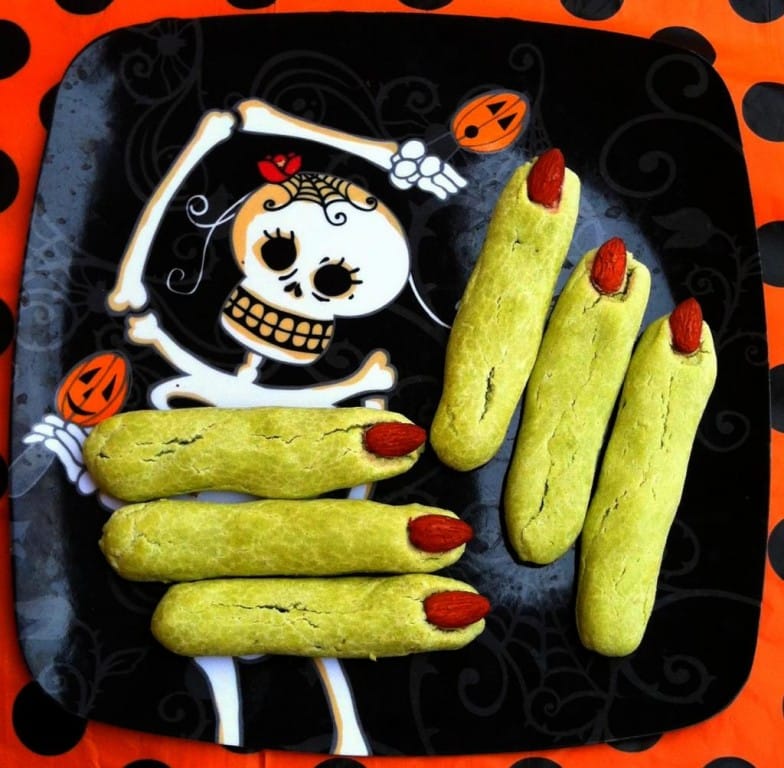 Ingredients
1/2 cup water
1/2 cup loosely packed spinach or kale, stems removed
2 large eggs
2 Tbsp clarified butter or coconut oil, melted
1 1/2 cups tapioca flour
1/3 cup coconut flour
1 tsp fine salt
1/2 tsp garlic powder
1/2 tsp onion powder
12 raw almonds
Optional: 2-3 Tbsp beet juice for almond "fingernails"
Directions
If using beet juice, place it in a small dish, and place almonds in it. Let sit for 5 minutes, remove and set almonds aside to dry.
In a blender or food processor, blend water and spinach until smooth.
Combine tapioca flour, coconut flour, salt, garlic powder and onion powder in a large mixing bowl, and beat eggs with and oil/butter in another bowl (do not add the water and spinach mixture yet).
Make a well in the dry ingredients, add eggs and oil/butter and stir with a fork until well combined.
Slowly pour in water and spinach mixture while constantly stirring dough. Dough should be a slightly stiff play-doh consistency, and you may not need all of the water.
Take a generous 2 Tbsp of dough and, with the palms of your hands, roll into a finger shape about 4-5 inches long, making sure you keep the thickness uniform. You should yield 12 fingers.
Press an almond down into the top of each fingertip, about 1/2-inch in and form the dough around the base and sides to keep them secure as they bake. You want the thin, pointy end of the almonds to be sticking out.
Place on a greased or lined baking sheet and bake at 400 degrees F for 15-18 minutes, until bottoms are golden brown. Because of the nature of the tapioca starch, the insides will still be very moist and chewy when fully cooked.
Serve with my quick and easy no-cook pizza sauce or your favorite pizza or marinara sauce for dipping.